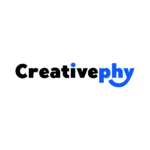 About Company
We are Creativephy, a creative digital marketing agency that helps businesses to upscale and enhance their efficiency and evolve flawlessly and fast. We strive to attain perfection in every project we take up and deliver satisfaction in the form of work done par excellence.
We are situated in New Delhi.
We are representing CreativePhy, an advertising and marketing company specializing in business branding, web development, and social media marketing services. With a passion for creative solutions, we help businesses establish a strong online presence and reach their target audience effectively. Our team is dedicated to delivering innovative strategies and impactful campaigns that drive results.